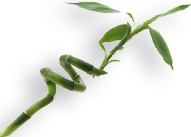 26 January 2011
door Florence Ricaud
The 2011 Annual Feng Shui Flying Stars

"Flying Stars" are not strictly speaking stars, they have no link with astronomy or astrology. It's just a vivid symbol to explain the energies found in the house.
"Annual" Stars, as their name suggest, change their area in the house each year, on February 4. Do not get confused with solar calendar that starts on 4 February and lunar calendar (celebration Chinese New Year). Each new solar year, starting on 4 February, annual stars move to different sectors.
According to the beneficial or bad nature of the Star (energy), you should place special cures in some areas. Each Star corresponds to one of the five elements in Feng Shui (Fire, Earth, Metal, Water, Wood). You can use producing and weakening cycles between those five elements to enhance or diminish a Stars influence placing a particular element in the sector. It will enhance beneficial energies and protect you from bad energies.

Kan 1 White Star is in 2011 in the Northeast.
Kan 1 is a water element Star. It is a beneficial star. It can bring in 2011 new opportunities, gains in financial investments, good relationships and romance. Businesses can expect better times if they have a main door in the Northeast. It is also very good for study or creation so spend time in this area or get your children to study here.
Metal objects are good to place there in 2011.
Blues, black, grey would be a good colour for a room with lampshades, pillow covers etc.
Avoid fire colours like red, pink, purple, orange, lilacs and also avoid candles and lights.
Kun 2 Black Star in 2011 visits the South sector.
The South in 2011 is not a nice area. The 2 Star can bring wealth problems, disease, bad luck, stress, stomach and digestive problems, bloated feeling, gossip, back stabbing, family disharmony and distress. This is especially so for people who are a Gua 1, 3 or 4.
If your bathroom, utility room, or other less important room is in the South area, it has no bad effect.
Place a salt water cure there or a round metal object if not sharp or aggressive looking.
Avoid using red colour, candles or bright lights. If you have these colours already, introduce white, silver, gold or copper with cushions, throws, tablecloth.
Chen 3 Jade Star is in 2011 in the North palace.
Be aware of potential theft, arguments, and disputes; back stabbing, hot tempers, loss of wealth, loss of time and energy and legal problems especially if you have a main door or important room in the North. Keep the North of your home as quiet as possible and avoid building work or renovations in 2011. It can also affect the feet, lungs, convulsions, liver, bladder, limbs and hysteria.
Use red decorative objects, candles, lamps and lights (a lamp with a wooden stand and a peach/red shade).
Do not use metal or hang metal wind chimes in the North in 2011.
Try and keep this area quiet and do not disturb with loud noises and vibrations in the North. Do not disturb the ground.
Xun 4 Green Star is in the Southwest in 2011.
The 4 Star governs romance, career, travel, creative, academic and artistic talents, wisdom and intelligence as well as self-development. Having a door in the Southwest can bring in new opportunities and lots of travel. Couples with a bedroom in this location can also enjoy good relationships.
For offices and studies, place a task light and a crystal globe on the desks.
Fresh flowers, blue or green, pots of green leafy or flowering plants, blue colour can be added here.
Avoid fire element and colours red, pink or purple and avoid metal objects here or metal wind chimes.
Remove metal cures from the 2010 cures in the Southwest.
5 Yellow Star in 2011 is visiting the East sector.
As wood controls earth, the evil 5 earth Star is not extremely bad in 2011. But the East is nevertheless a trouble area in 2011 and it can bring in potential theft, arguments, loss of wealth and legal problems especially if your main door or an important room is in the East.
The 5 Star in the East it is also marred with Tai Sui Grand Duke in 2011, so it can affect your wealth and luck (see article on 2011 Annual afflictions).
Do not activate the East with loud noises. Avoid refurbishment. Don't make building work, unless a Feng Shui professional calculates your auspicious dates to start renovation.
If your bathroom, toilet, wardrobe is located here, the negative power of 5 Star is not activated.
Do not decorate with red or earth colours, candles. Blue beddings and curtains are good to use here.
Place a salt water cure or a metal wind chime. Use white, silver, gold colours, representing metal
Qian 6 White Star sits in the Southeast palace in 2011.
It is a fortune Star and it is very good for career, wealth, leaders, finance and law. Those with a main door, office/study in the Southeast will benefit greatly this year.
If this is your bedroom, shades of blue or black in your decoration may help with health.
Place some real quartz crystal or a hanging crystal; these are very good to activate wealth and business.
Keep the Southeast area active with windows and doors open.
Avoid red colours and candles in the Southeast in 2011
Dui 7 Red Star flies into the Centre in 2011.
The 7 quarrelsome Star has a negative influence in Period 8. This is a fighting Star that can cause problems: assault, deceit, violence and robbery, high risk of burglary, deception, theft, gossip and back stabbing. This area is not good for writers, artist or children studying and especially so for females.
Use blue, black colours in your decoration: cushions, rugs, bed covers or doormats.
Do not use anything of fire element, candles or colours red, nor crystal quartz and any earth element.
Keep the centre of your home quiet.
Be careful of robbery, arguments and loss of wealth. This Star can cause problems with people you know and thought you could trust. There can be misunderstandings, pressure and business rivalries.
Do not hang metal wind chimes in the centre, as it would reinforce the 7 Star Metal energy.
Gen 8 White Star is in the Northwest in 2011.
The 8 annual Star is the most auspicious flying star, so the Northwest is the wealthiest area in 2011. Wealth, fame, romance, distinction can be expected if you have an office or main door in the Northwest, even if you do not activate the area.
Hang crystal quartz, or a crystal sphere in the Northwest, even if your bedroom is here. It's also a good study area, placing a crystal there can be good for concentration.
Do not place metal in the Northwest this year, as it will weaken the good earth of 8 star.
Keep this area clutter free and activate it with open windows and doors or place a moving water feature (fountain…).
Introduce fire and earth colours (yellow, brown, beige or taupe) into the area, bed covers, rugs, table covers, sofa throws… Avoid blue and black colours.

Li 9 Purple Star is found in the West palace in 2011.
It can cause a mix of good and bad. It is the Star of future wealth and is auspicious in Period 8. Career opportunities and promotions can be expected if you have an office or main door in the West in 2011. It can bring in fame and acknowledgement, growth and improvement.
This is a good area especially for children to study there. Couples with a bedroom in the West can also enjoy good relationships. There may also be a chance of producing intelligent children.
But this year the West sector can also bring in ill temperaments, relationship troubles as we have the Three Killings and Sui Po here (see article on the annual afflictions).
Put fresh flowers, plants, in the West area this year.
Place lights, candles and a lamp with a wooden stand and a peach/red shade.
In furnishing or decoration, introduce green or red colours (red, pink and purple):  bedding covers, rugs, table covers, sofa throws.
The 2011 Annual Feng Shui Afflictions
The Three Killings are in Chinese called 'San Sha'. This yearly affliction is mainly in the West. Do not undertake noisy renovations or re-decorative work. Nor should you disturb the ground by digging holes, building foundations or conduct any maintenance work with any noisy equipment in this area inside or outside your property. Once disturbed, this affliction will bring about financial loss, sickness and arguments. This is the worst of all the annual afflictions.
Never sit with your back to this direction. It is also better to face the West. Especially if this is one of your four favourable directions.
If you have to carry out work, better contact a professional Feng Shui practitioner to select an auspicious date to start the work.
Tai Sui (The Grand Duke of Jupiter) resides between 82.5º – 97.5º in the East.
Do not disturb this 15º sector in 2011.
East facing properties with front doors to the East must be careful not slamming the doors and do not renovate or dig in this part for 2011.
Never sit facing this sector, unless you want to experience defeat, demotion, loss and obstacles. Instead, sit with your back to this sector and Tai Sui will support you.
With the inauspicious 5 Lian Chen Star also visiting the East palace in 2011 this can cause bad luck and health problems and all this destructive energy is combined with the even more destructive Tai Su (Grand Duke).
Sui Po (The year breaker)
Sui Po year breaker occupies the division directly opposite Tai Sui Grand Duke, which for 2011 is West (262.5 – 277.5). You should do no groundbreaking work, renovations or any noisy activities in the West. If disturbed this area can and normally will cause immediate health problems especially for the elderly. If you have to carry out work or emergency repairs in the West contact a professional Feng Shui specialist to select the appropriate dates to start the work.
The annual Five Yellow has flown to the East this year. It is recommended not to disturb its position with noisy activities, renovations or maintenance work. Homes with gardens or driveways in the East of the property should avoid disturbing the ground with major digging or building work. When disturbed, the Five Yellow can bring disaster, sickness, lawsuit and major loss of wealth.
Please keep it real. The degree in which you are affected by these energies vary from person to person. Your personal efforts (Man) to make the most of this Metal Rabbit year play an important role. Your life's path (Heaven) indicates how prosperous this year will be for you. Keep in mind the Chinese philosophy of Heaven, Man and Earth. Use the Feng Shui information (Earth) to lessen the effect of unfavourable energies. Please do not start worrying if your bedroom or office is located in the East.