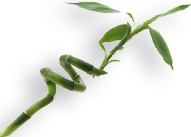 26 April 2010
door wouter
In Feng Shui, the best approach is to take a truly experimental attitude. It requires scientific virtues of patience, enthusiastic observation and openness.
Assume that you want to rearrange your bedroom. Start with a change in line with an advice of Feng Shui classics, such as changing the place of the bed, the light or your bedside table. Be careful with what happens to you within 3 weeks.
Ask yourself this question: at the end of the three weeks, did anything special happen to you, out of the ordinary? Do not wonder where it happened, how or why, just remember each incident or each particular moment. If you have suffered some exceptional setbacks, then return to the original arrangement and try another change. Then, follow the same process of self-diagnosis over a period of three weeks.
(Excerpt from the Lam Kam Chuen's Manual of Feng Shui).